Display at Emporium - Main Street U.S.A. - Magic Kingdom
Saint Patrick's Day is a religious holiday celebrated internationally on 17 March. It is named after Saint Patrick (c. AD 387–461), the most commonly recognised of the patron saints of Ireland. It originated as a Catholic holiday and became an official feast day in the early 17th century. It has gradually become more of a secular celebration of Irish culture.
The hat has a retail of $14.95, and is the perfect accent to your St. Patrick's Day outfit. It can also be found on the
Disney Parks on-line store
.
Erin go bragh! It means Ireland Forever. You won't get pinched on St. Paddy's Day wearing this green St. Patrick's Day 2011 Mickey Mouse Ear Hat. A little leprechaun hat sits between Mickey's ears and ''St. Patrick's Day 2011'' is embroidered on front.
Originally, the colour associated with Saint Patrick was blue. Over the years the colour green and its association with Saint Patrick's day grew. Green ribbons and shamrocks were worn in celebration of St Patrick's Day as early as the 17th century. He is said to have used the shamrock, a three-leaved plant, to explain the Holy Trinity to the pagan Irish, and the wearing and display of shamrocks and shamrock-inspired designs have become a ubiquitous feature of the day. In the 1798 rebellion, in hopes of making a political statement, Irish soldiers wore full green uniforms on 17 March in hopes of catching public attention. The phrase "the wearing of the green", meaning to wear a shamrock on one's clothing, derives from a song of the same name.
"

My son and I found a four-leaf clover in our yard about two years ago

," said Jeanne. "

We pressed it in a book with the hope it would bring us good luck. It has so far

."

- Jeanne Lewis, developer for the two St. Patrick's Day limited edition pins,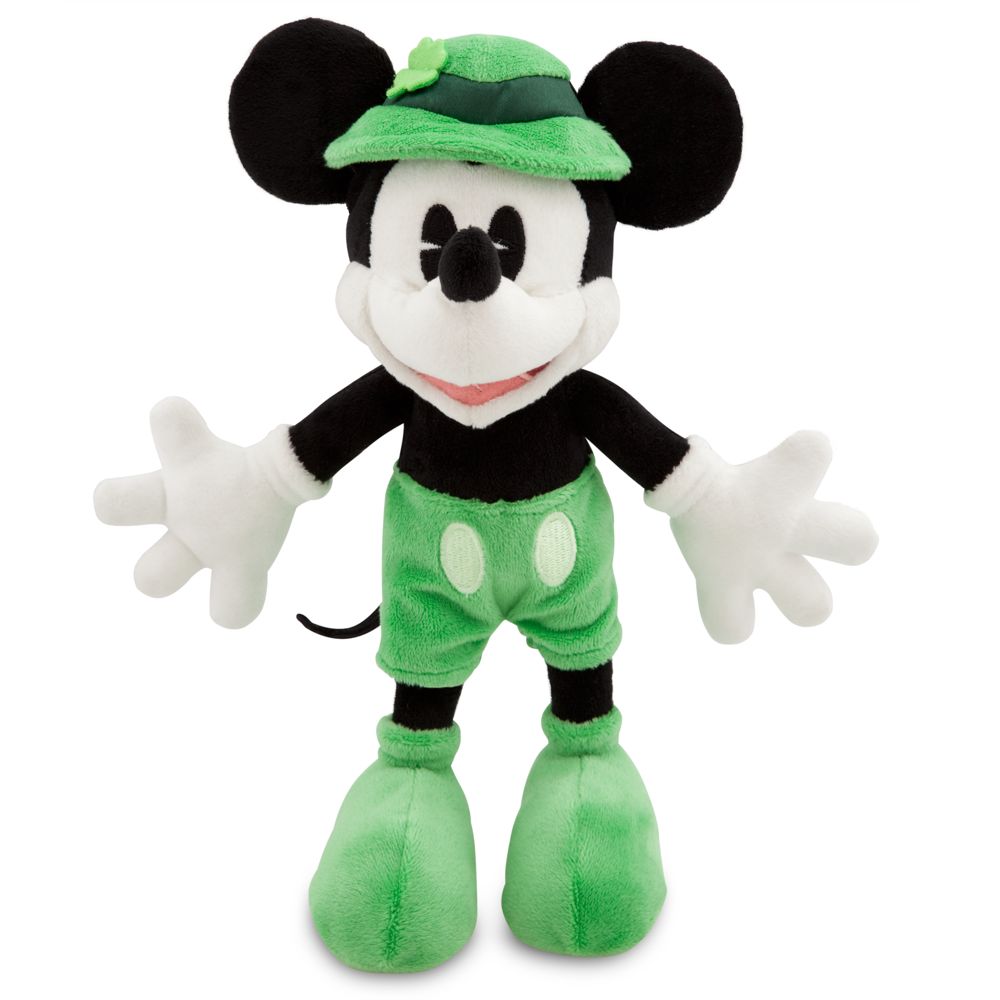 Top o' the mornin' to you! Celebrate March 17th with pie-eyed Mickey who's dressed up in traditional green on this St Patrick's Day Mickey Mouse Plush Toy. He even has a four-leaf clover in his hat so with luck you'll give him a nice big hug!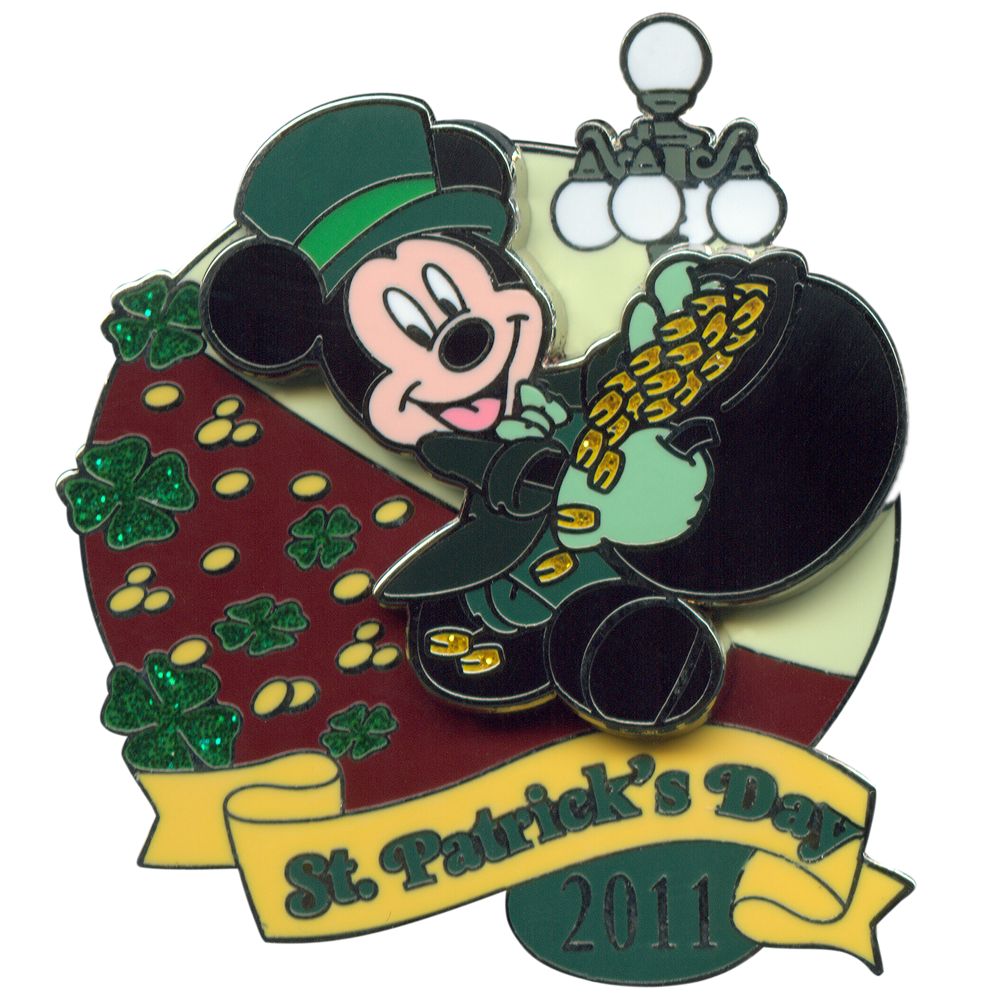 Look who found your pot of gold -- it's Mickey on this 2011 St. Patrick's Day Leprechaun Mickey Mouse Pin. Glittering gold and four-leaf clovers add sparkle and a touch of Irish charm to this limited edition pin.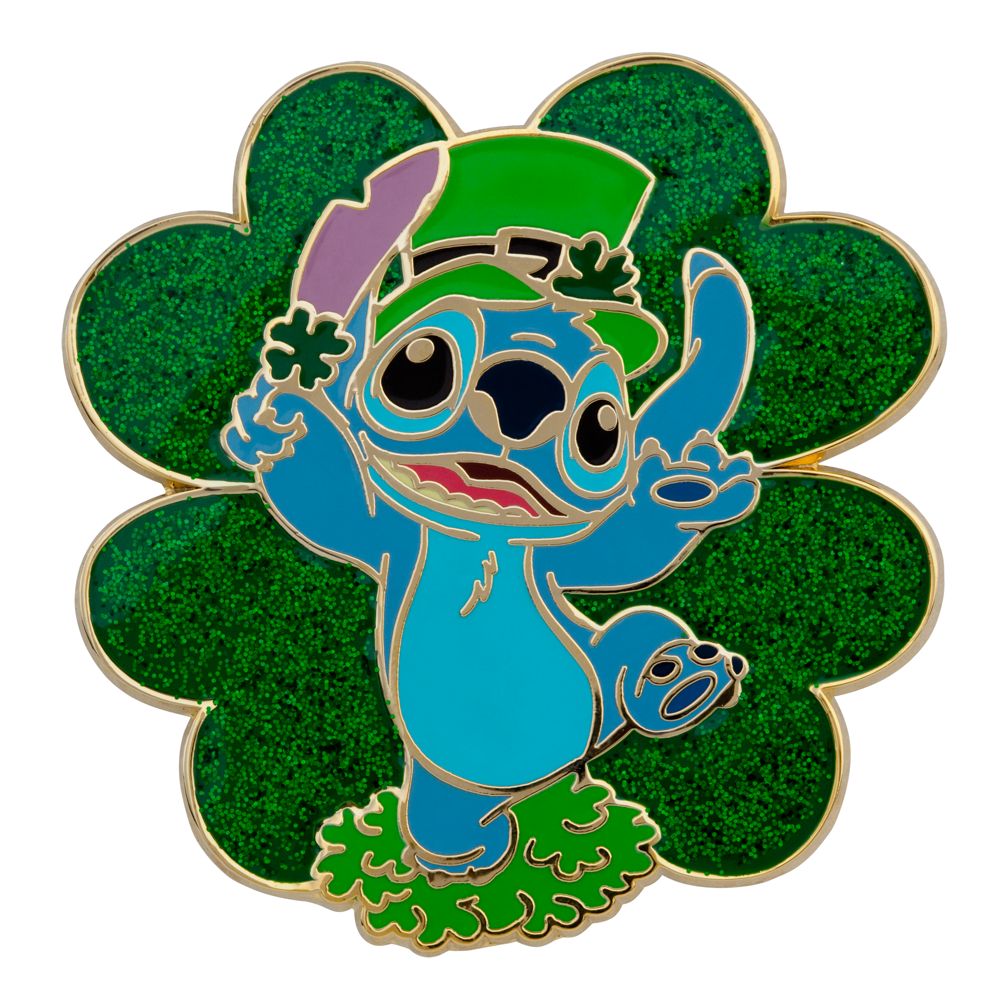 Being an alien, Stitch doesn't have much in the way of Irish roots, but that doesn't stop him celebrating the patron saint's day on March 17th with this glittering St Patrick's Day Stitch Pin.
---
Ready to be Irish for the day? The
Downtown Disney District
is preparing to celebrate St. Patrick's Day on March 17 with special entertainment, kids activities, food specials and lots of green. Traditional Irish music, along with folk and rock tunes, will set the mood. With this much fun, you just might want to pinch yourself!
Not party-ready when you arrive? Before you get pinched for not wearing green, hurry to one of the many merchandise carts set up throughout Downtown Disney and grab a green feather boa or novelty bowler hat, beads and other colorful accessories for the party.
The festive atmosphere kicks into overdrive when the high energy Irish folk band Shillelagh delivers spirited songs accompanied by accordion, fiddle, and percussion on the District's main stage at the
ESPN Zone
.
Ralph Brennan's Jazz Kitchen
along with the ESPN Zone,
House of Blues
,
Catal
,
Tortilla Jo's
and
La Brea Bakery
are all offering St. Patrick's Day drink specials including Irish whiskey, themed martinis, margaritas and, of course, green beer.
Not to be outdone, Uva Bar will feature a special menu throughout the week leading up to March 17 along with drink specials and an assortment of Irish beers. We've been told that even the hosts and hostesses will be getting into the act, but we don't want to give away all their surprises.
Your little leprechauns can be set loose to find the Downtown Pot 'o' Gold in a fantastic treasure hunt. If they're lucky enough to find the hidden clovers throughout Downtown Disney District, they could win prizes and maybe even a gold doubloon or two. Need more great reasons to follow this rainbow?
Build-A-Bear Workshop
and the LEGO Store will both have special four leaf clover activities and merchandise available while Kaman's Art Shoppe will offer themed face painting and henna tattoos for adults and children.